Regulation, certifications, ... find here all information linked to sustainable buildings.
Regulation, certification, find here key information around sustainable buildings.
We spend over 80% of our time indoors. Buildings represent living spaces with strong health and comfort impact for the people, being occupants or users, living or working in them.
In this context of resource depletion, demographic pressure and climate change, the ecological emergency is now a well-known fact.
In the construction sector – main contributor of GHG emissions who needs to answer big and justified expectations – environmental certifications have developed in the whole world for around 15 years in order to accelerate the transformation of construction practices. This page will also give you key information on regulation to move towards more sustainable buildings.
Environmental certifications (French publications) :
Baromètre 2016 de la Certification Environnementale
Les certifications environnementales internationales : étude comparative (publiée en 2015)
"E+C-" pilot phase for low-carbon and positive energy buildings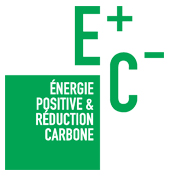 By 2018 the law for energy transition and green growth will set up an ambitious environmental regulation for new buildings. 
As of today the State, the economic players and the associations are working on two main trends for new construction to fight climate change:
spreading energy positive buildings;
developing low-carbon buildings throughout their whole life-cycle from design to demolition.
A pilot phase has been launched to test the feasibility of this ambition in order to prepare the future environmental regulation for new buildings.
Alliance HQE-GBC supports this "E+C-" test. Alliance HQE-GBC is a member of the national steering committee.
In order to make it easier for the professionals, the HQE certifications are based on E+C- regarding carbon and energy. Then it will be easier for all to bring quality of life and economic performance into the environmental transition.
To know more about E+C- (in French) : www.batiment-energiecarbone.fr