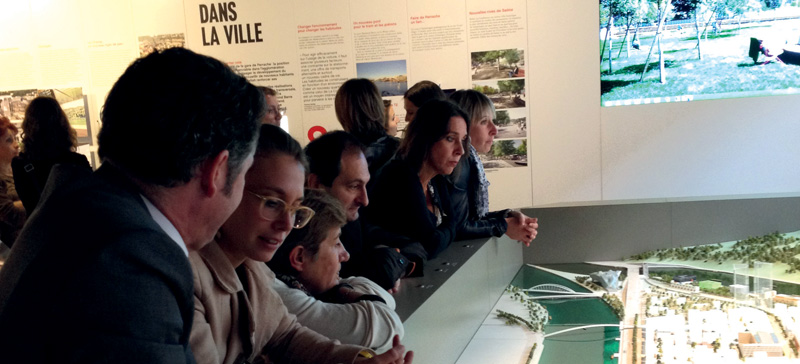 The reference framework for HQE™ urban planning is a project management tool for urban planning projects with a sustainable development angle. It defines a frame for urban planning projects integrated in their territories, whose project managers follow good governance and program feasibility. It is an opportunity enabling to bring together targets of wellbeing, equity, social cohesion and economic development with respect of the environment and quality of life.  Building such projects of sustainable urban planning requires a strong political leadership, this is why this approach implies a permanent dialogue between urban planners, city and users.
This approach can fit to all urban planning project no matter their size, process, territorial context or type: renovation or new, urban or rural, residential or non-residential. It is suitable for all the players, being public or private, no matter their size, engineering and internal expertise skills.
HQE for urban planning consist in inseparable parts: a project management system and a theme approach. The project management system, key element of the process is divided in:
Continuous management, participation and assessment tools
Key stages marking the project's ongoing development.
The project management system facilitates dialogue between stakeholders, improvement of the project as well as its transparence and traceability. HQE for urban planning was developed with the specific support from ADEME, CINOV, CSTB, Federation of Local Public Companies, OGE, SNAL, USH and UNSFA.
In accordance with its charity status, Alliance HQE – GBC France grants free access to the reference framework. Users will need to quote Association HQE – France GBC as author and will inform by email of the use made of the framework. The users of the framework cannot use the HQE™ name. Only the certified urban planning projects have a contractual right to use the HQE™ brand. 
The requirement of assessment: assisting the players (recommendation handbook: implementing and managing an assessment tool for sustainable urban planning projects)
Assessment has emerged as a new requirement for urban planning projects. It is an emerging practice for which stakeholders need methodological assistance. This is why Alliance HQE – GBC France with the support of ADEME has led a collaborative work to create a recommendation handbook for urban planners and cities, project managers and urban planning professionals. It aims at helping them integrate the assessment requirement in their sustainable operational projects with a focus on their benefits. The handbook is available in French below.